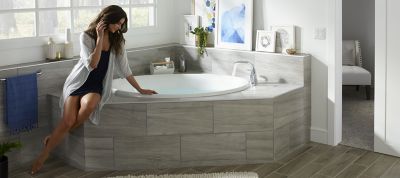 3 Steps to a Better Bathroom
Smart planning today can lead to a smoother remodel
1. Get Inspired
Imagine your dream bathroom's overall style before you begin to select the products and solutions that will bring it to life. Browsing Pinterest or Houzz and exploring other homeowners' DIY projects are great ways to start. Ask yourself:
• What colors, patterns and materials interest you?
• What styles appeal to you?
• What mood do you want your bathroom to convey?.
Take inventory of the things you like—and what you'd like to improve—in your current bathroom. For example, do you love your color scheme, but are you looking to transition from a bath to a shower? Want to keep your toilet, but need more storage in the bathing area? Keep your overall vision in mind as you begin planning the details.
Plus, Sterling is a Kohler company, which means every product is backed by over 140 years of manufacturing experience and excellence in the industry.
As you find styles and products you like, save them on Pinterest and in your MySterling folder.
2.Consider Bathroom Uses
Optimize a shared bathroom space.
If busy mornings mean negotiating for a turn, think about ways to improve your bathroom's functionality. Adding two sinks can help reduce the wait.
Keep kids and pets in mind.
If you bathe children or a dog, consider a bath shower door with ComforTrack(R)technology. ComforTrack allows you to kneel, sit or lean on the cushioned threshold comfortably.
Think about how you'll clean and maintain the space.
Too busy to spend hours cleaning? Skip the shower tile and make cleaning quick and easy with a bath or shower made of Vikrell(R) material. Vikrell resists stains and scratches and wipes clean easily.
Consider your must-have functionality.
If saving water is important to you, look for a WaterSense®-labeled toilet. WaterSense-labeled toilets can save up to 20% more water per year than industry standards require.
3. Make Sure to Measure
Measure your bathroom as a whole, as well as the toilet space, bath, shower and shower door. Your toilet space will help you determine if an elongated or round-front toilet is a better choice. And if you're replacing an old bath or shower, pay attention to your drain location.
With a modular design, the Ensemble Medley(R) bath/shower fits through doorways and around corners with ease, and it's lightweight enough to be carried by a single person.