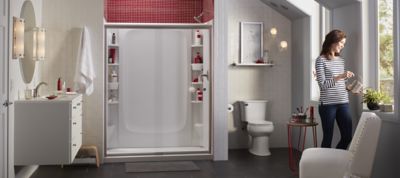 STORE+® Storage System
Customize your shower storage.
Eliminate clutter
Arrange your shower exactly the way you like it with STORE+. A fully customizable storage system, it features movable accessories that make keeping everything in its place easy.
STORE+ With Aging in Place Backerboards
Safety meets convenience. These STORE+ showers include factory-installed backerboards, so you can install grab bars now or in the future.
STORE+ Showers
Available in multiple sizes, STORE+ showers feature adjustable, dishwasher-safe shelves and bins that snap into place
GUARD+® Shower Bases
Designed to complement tile-down installation or STORE+ walls, GUARD+ shower bases feature a superior, four-sided water containment system.