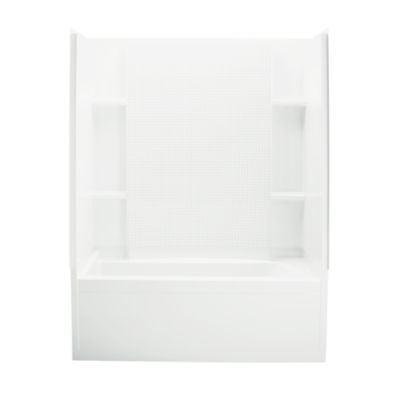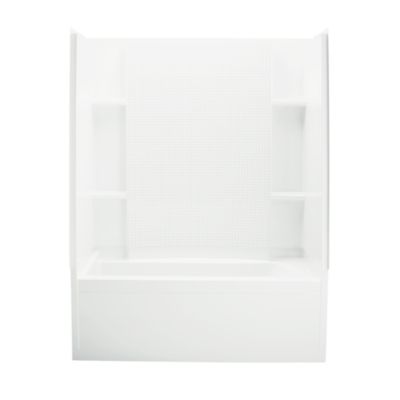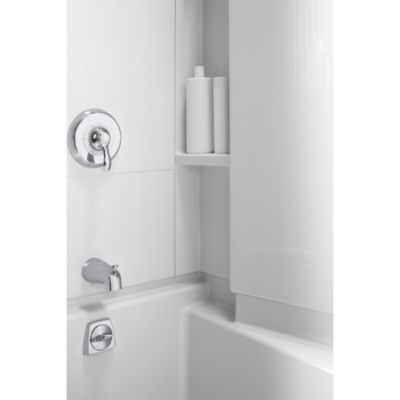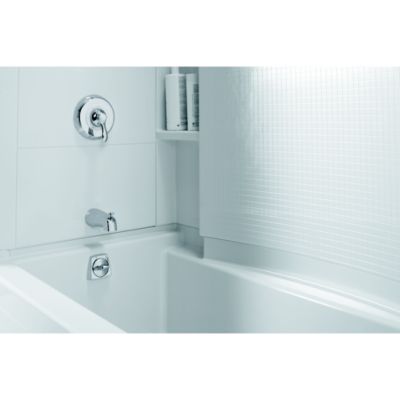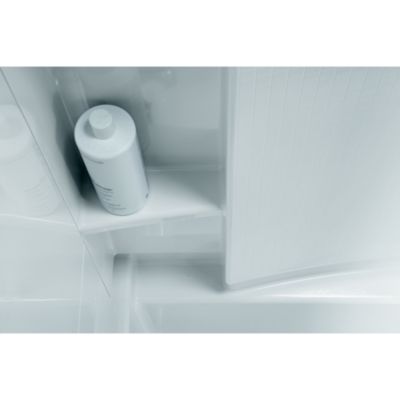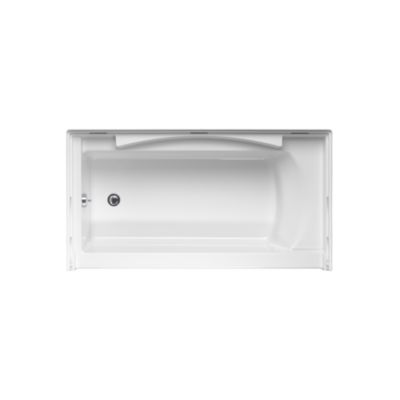 Dimensions:60" x 36" x 76-1/4"
71160110-0
Select your color/finish:
White

KOHLER Biscuit

US List Price: $928.75
(based on selected color/finish)
Product Components: Bath (71161110), Wall Set (71164100)
When classic meets contemporary in the Accord multi-piece bath/shower, the result is inspired, smart design. The bath/shower delivers clean style along with convenient storage and fast, easy installation.
Designed with an 20" apron
Made from solid Vikrell material for strength, durability, and lasting beauty
Modular design allows for easy installation during any phase of construction
High-gloss finish provides a smooth, shiny surface that is easy to clean
Geometric backwall design adds visual interest while easy to clean
Rounded interior space provides more room for the bather
Abundant, recessed storage reduces the visual clutter
"Snap" together installation. An qudible click lets you know when the walls are properly installed
No caulking required in the seams
Conforms to ANSI Z124.1.2 and CSA B45.1 National Consensus Standards
Bath only installation not recommended. Install with 71164100 wallset.
Grab Bar, 28", Wide Grip, Curved

Product #:
80012031
List Price:
$118.35
Spec Sheet
Grab Bar, 24", Thin, Straight

Product #:
80001024
List Price:
$86.05
Spec Sheet
Save to MySTERLING

Save to MySTERLING
The product was saved to your project folder.
*Due to the differences in monitors, technical factors, and characteristics of some of our finishes, the colors shown here cannot be represented with all their true qualities. The color tiles should only be considered a guide *All prices are Manufacturer's Suggested List Prices in U.S. dollars. The price you pay at your local supply outlet may be different than the Manufacturer's Suggested List Price. These prices supersede previous prices and are subject to change without notice. These prices do not include shipping. Any sales tax applicable will be added to the prices.